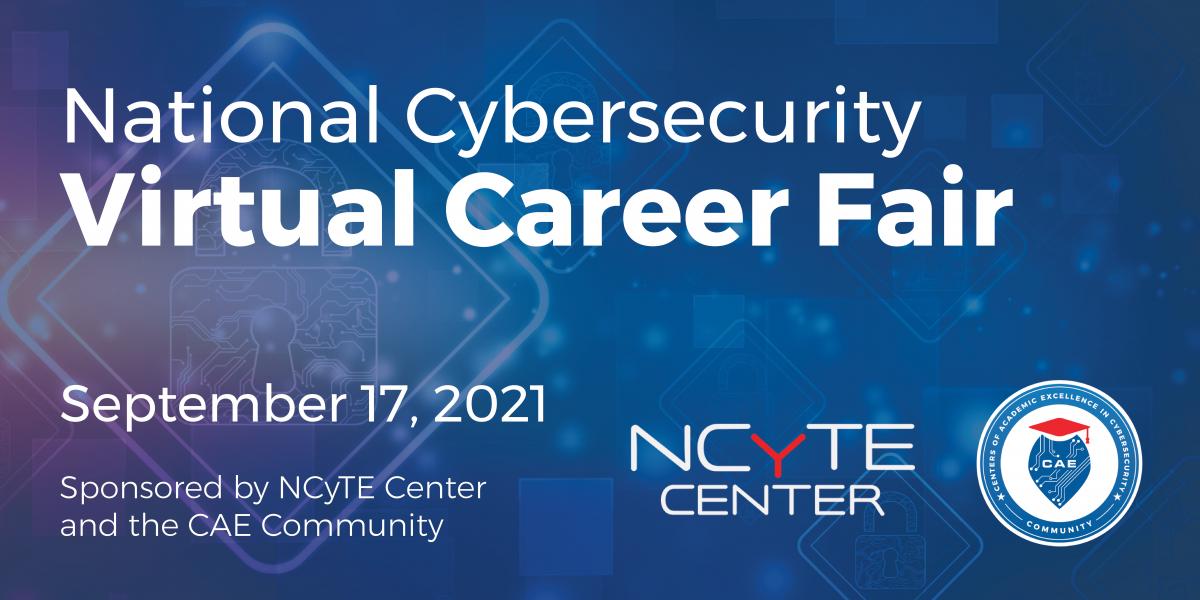 5th Annual National Cybersecurity Virtual Career Fair
Posted on
22 Jun 2021 8:55 AM
The 5th annual National Cybersecurity Virtual Career Fair, sponsored by National Cybersecurity Training and Education (NCyTE) Center and the CAE in Cybersecurity Community, is right around the corner! Our career fair brings together students and alumni from over 300 institutions across the Nation designated as Centers of Academic Excellence in Cybersecurity with employers offering internships, temporary, part-time, and full-time employment. This year, the National Cybersecurity Virtual Career Fair will take place on September 17th, 2021, from 9am to 1pm PT.
Students, alumni, and faculty - Register here to set up an account for live-day access on September 17, 2021
Each year, the number of undergraduate and graduate students and alumni participating in this event continues to grow. Participants come from a variety of disciplines, including cybersecurity, security studies, computer science, engineering, math, physics, and project management. Students from CAEs in Research (CAE-R), Cyber Defense (CAE-CD), and Cyber Operations (CAE-CO) are invited to participate for FREE.
Students and alumni can submit resumes before the virtual career fair begins to allow employers to view resumes before the career fair. Students can participate in workshops leading up to the National Cybersecurity Virtual Career Fair to help them build their resume and interview skills. 
Are you an employer interested in hosting a booth? Please click here to receive information on submitting booth content.
NCyTE Center is funded by the National Science Foundation (Grant #1500375, Grant #1800589, and Grant #1902329). CAE Community is funded by the National Security Agency (Grant #H98230-20-1-0292).