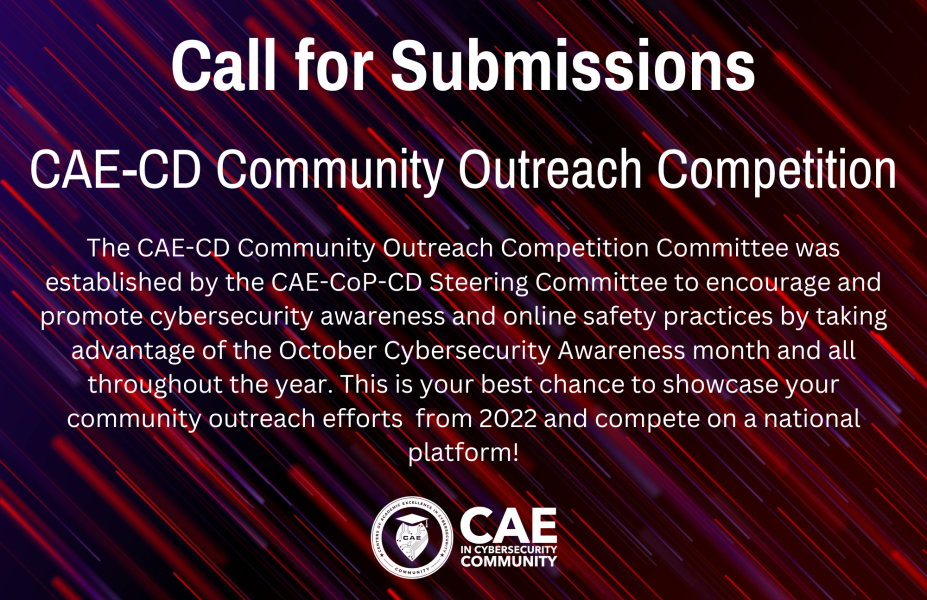 Call for Submissions CAE-CD Community Outreach Competition
Posted on
27 Jan 2023 11:20 AM
Dear CAE-CD POCs,
Greetings. On behalf of the CAE-CD Community Outreach Competition Committee, we are soliciting your submission for outreach activities for the year 2022.
The CAE-CD Community Outreach Competition Committee was established by the CAE-CoP-CD Steering Committee to encourage and promote cybersecurity awareness and online safety practices by taking advantage of the October Cybersecurity Awareness month and all throughout the year. This will be the best chance to showcase your community outreach efforts and compete on a national platform!
The Criteria, Rules, and Submission Instructions for the 2022 CAE-CD Community Outreach Competition, along with current committee members, can be found at: https://www.caecommunity.org/community-of-practice/cyber-defense (under section "CAE-CD Community Outreach Competition").
The submission deadline is February 15, 2023.
Please submit the list of activities and supporting documents through the following URL.
https://tinyurl.com/CAE-Outreach2022-Survey 
To facilitate the reviewing process, it is required to use the provided template for the list of activities. The template can be accessed below. Please download the template, fill in the activities with complete information, and then upload it to the URL above.
https://tinyurl.com/CAE-Outreach2022-Template 
Here are a few reminders:
1. The submission can only be done via the CAE Point of Contact (POC) person, or the representative authorized by the POC.
2. The activities should only include events targeted at people outside the institution; inside events for the institution's own students and employees (such as attending conferences and collaborations with CAEs) do not qualify.
3. It is recommended that you carefully fill in data in the given template and limit the number of submissions. The current online submission portal allows only one submission per computer. If you need to create additional submissions, please contact the committee co-chairs.  If a CAE makes several attempted submissions, only the latest submission will be counted.
4. Please limit the size of each submitted file to 100 MB. If you plan to submit multiple files, please compress them into a single file for submission. If you have additional needs, please contact the committee co-chairs.
If you have further questions, please do not hesitate to reach out to Dr. Wei Li (lwei@nova.edu) or Dr. Xiuwen Liu (liux@cs.fsu.edu). Thanks for your support and your contribution to your community!