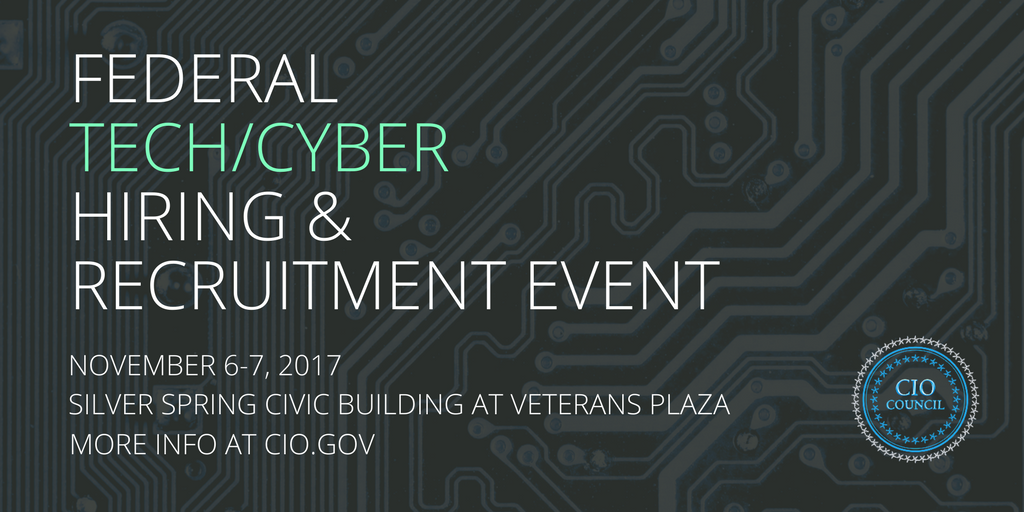 Federal Tech/Cyber Hiring & Recruitment Event
Posted on
15 Sep 2017 11:23 AM
The Office of Management and Budget has announced that today marks the official public launch of the Federal Tech/Cyber Hiring & Recruiting event.
This is the first-ever, government-wide IT and cybersecurity federal hiring event. The event will be held November 6th to 7th at the Silver Spring Civic Building at Veterans Plaza in Silver Spring, Maryland. There are currently more than twenty federal agencies including four intelligence organizations (FBI, CIA, NSA, and NGA) working collaboratively to recruit, interview, and hire for hundreds of IT and cybersecurity positions.
In conjunction with the event, three government-wide job opportunity announcements are now live on USAJOBS:
Please visit https://cio.gov to learn more, register for the event, apply for positions, and take advantage of free training webinars prior to the event.
If you share the event via Twitter, LinkedIn, or Facebook, please feel free use the images attached and use the below hashtag: #FedITWorkforce and #GovTechJobs