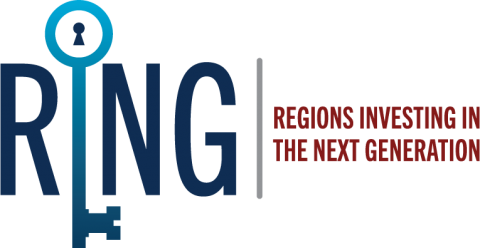 ---
Leading Institutions:
The University of Alabama Huntsville
,
Moraine Valley Community College
---
What is RING?
RING (Regions Investing in the Next Generation) is an online high school cybersecurity course that offers interesting and engaging content specifically for students and schools without an existing cybersecurity program. RING aims to mentor students down their career path, instilling ethics and pride in their profession along the way. RING is more than a collection of labs and presentations--it's forging the tools that will shape the next generation of cybersecurity experts.
Students can achieve high school credit for RING in participating states.  
Students can engage with each other and network with cyber professionals through the RING student organization.
We are currently offering the following course options for 2023-2024:
NEW! Summer 2023 (May 2023 - August 2023) *seating is limited for this intensive, fast-paced course
Full Academic Year (Aug 2023 - May 2024) *recommended for most students
Fall 2023 (Aug 2023 - Dec 2023) *fast-paced course
High school students who are interested in RING should fill out the Student Enrollment Request Form.
Who are the partner institutions?
RING is funded through NSA CAE-C K12 Pathway grants. The list of involved institutions are:
The University of Alabama in Huntsville coalition:

Coastline Community College
Dakota State University
Pace University
Purdue University Northwest
Dark Enterprises
 

Moraine Valley Community College coalition: 

Forsyth Technical Community College
Brookdale Community College
Florida State College at Jacksonville
Cal Poly Pomona
Eastern New Mexico University Ruidoso
 
Want more information?
Are you an instructor that is interested in learning more about this program and would like to be involved?
Follow this link to fill out an educator curriculum request form.
Are you a current or prospective student wanting to learn more about what this program has to offer?
Follow this link to fill out a student enrollment request form.
 
Resources
Here are a few links to affiliated public resources:
For more information regarding the RING Project, please contact ring@caecommunity.org
---
---
---